In your shopping cart: 0 Article, 0,00 EUR
BMW E46 7 Zoll TFT Bezel
Over 6 years in program

The possibilities for a mobile CarPc are massive. Rear-camera, bluetooth free-speach,
3D-GPS-Birdview-navigation,harddrive mp3-sound, outlook, umts-internet,
naval-communication, DVD. Special frontends with large accessable buttons makes
the TFT to a multimedial navigation screen.
Solution and quality of exclusive TFTs like the Xenarc models and especially the CTF-H
exceed normal Double-DIN devices and original Navi-displays in many times.
Normally a solution of 800x600 pixels is driven.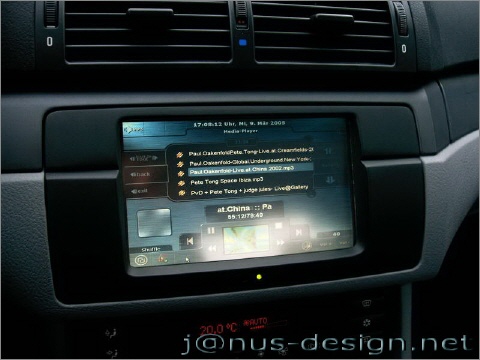 Construction
made out of 450 Gramm duroplast, tightened with carbon-rovings inlets
Duroplast calmed,hardened in a special way, resistend up to 212° F temperature
revolving gap 1,5mm to interior-faceplate, gap 0mm to dashboard
surface totally free of micropores, 2K mat deepblack brushed
rear side flat, with 6 castet bolts for fixing the TFT at the bezel
holes for ON-LED, remote sensor and photo-diode (CTF-H) included
special inox-lasered plates for correct & saftey adjustment
individual rear facing plate for saving the rear electronic
cutout for the TFT is 154 x 91 mm, totally depth 35 mm
original configuration recoverable, original radio mounting still given



JANUS DESIGN TFT BEZEL & CES FRONTEND SOFTWARE